The industrial style is one of the easiest to maintain and is ideal for modern homes and condos. To achieve the desired effect, wood and metal are used, while floors, walls, beams, and pipes are left exposed. While some people think the industrial look is cold and bare, you can make a few changes to make it homier.
A combination of colours, textures, and patterns can add a warm and homey feel to an otherwise cool space, and oversized furnishings can add a level of comfort. Continue reading to learn about nine ways to add warmth to the industrial-style design.
1. Make scale the first thing that comes to mind
One of the most important considerations when designing an industrial space is scale. Because industrial spaces are typically large and open, it is critical that the lighting, furnishings, and art reflect the human scale.
To begin, use large lighting fixtures, floor-to-ceiling drapery, and large area rugs, then layer in additional textures and fabrics. Your industrial furniture should feel proportionate to the space.
2. The mood lighting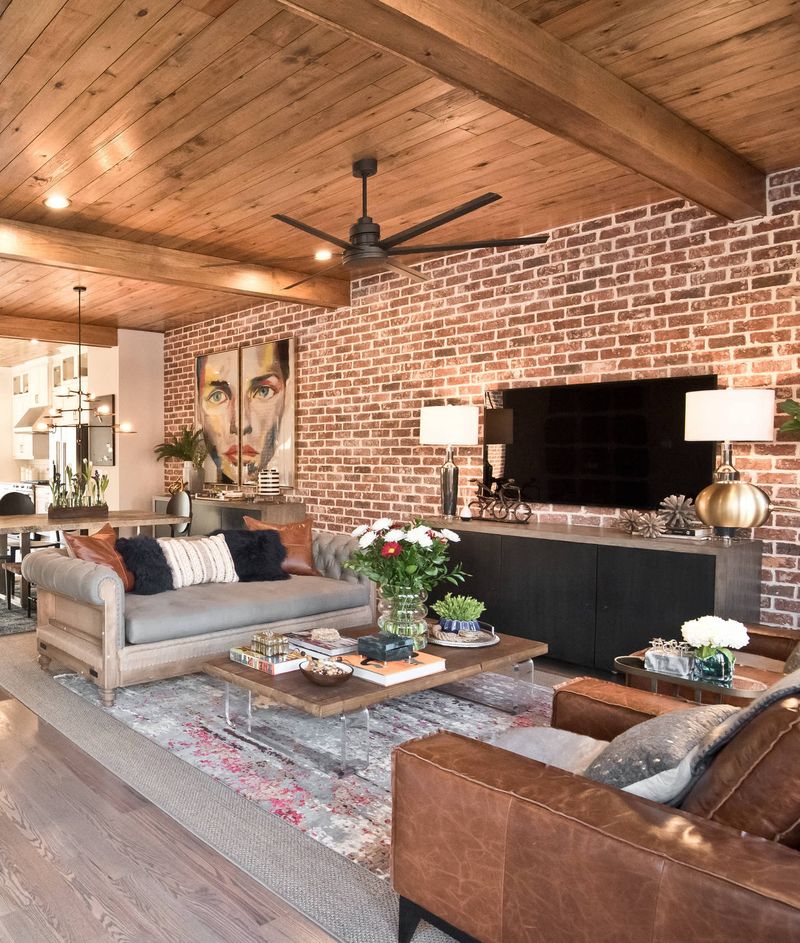 Getting the lighting right is essential for adding warmth and a sense of identity to an otherwise cold working or dining space. Hanging a few factory-style pendants low over the table creates an inviting, intimate atmosphere that is ideal for long dinner parties.
You may want to use dimmable fixtures and bulbs to add extra warmth. Lighting is one of the most important design elements that can be used to add warmth to a space, but it is also one of the most overlooked. Lighting types and how they affect the overall feel of space are critical considerations. Warm decorative lighting on dimmers is preferable to cool LEDs or only recessed downlights.
3. Use large-scale furniture
As previously stated, it is critical that industrial spaces feature furnishings that reflect the human scale. Because industrial spaces are often open concepts, the right furnishings can help create boundaries within the space and prevent it from feeling cold or empty.
To fill large spaces, use large-scale furnishings such as large sectional sofas, tall freestanding shelving units, oversized cabinets and consoles, or long benches and daybeds.
4. Display oversized artwork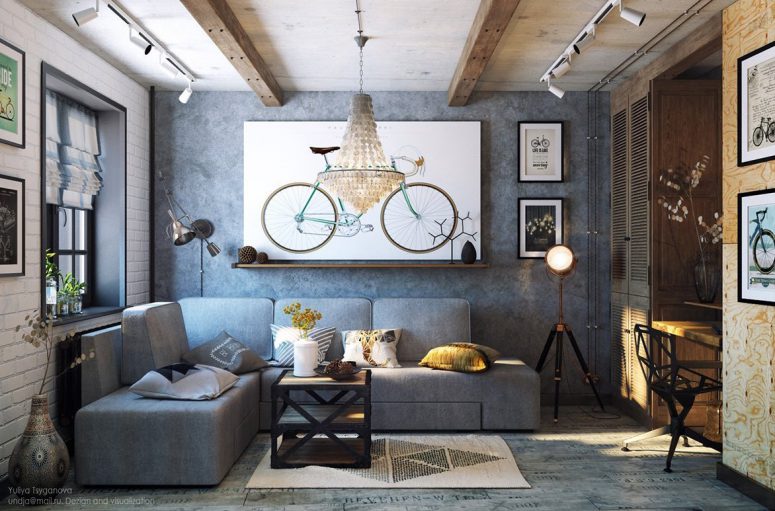 Oversized artwork can help balance the scale of an industrial space while also adding personality and warmth to the interior. Art is an important part of adding that final touch of personalization to any space.
It personalizes the space for the client and aids in the creation of focal points to direct the eye. Looking at someone's art allows me to learn a little bit more about them.
5. Add your personal details
Create a setting that feels intimate and personal to the homeowner—either with curated vignettes or with heirlooms and customized pieces that add an emotional connection to the environment—to create an industrial-style space that feels warm and livable.
Use items that reflect the homeowners to give the space a warm and comforting touch, whether it's curated artwork, a personal library, or framed family photographs. Personal items that reflect the homeowner's preferences distinguish the space as being uniquely appointed. When using an industrial space with industrial finishes as a backdrop, add more homey items to add soul and counterpoint.
5. Include warm woods
Warm woods, when contrasted with exposed pipes and industrial metalwork, can make a space feel more comfortable—whether on the ceiling or floors or with furnishings. I believe that wood tones in a space reconnect us to nature in the home. The space would feel cold if it only had industrial metals and cold concrete walls.
6. Don't be shy to add colours
Colours and textures are used to bring industrial spaces to life. I am a firm believer in the power of colour to alter the mood of any space. A splash of colour against the exposed brick? Please, yes! Without colour contrast, the space can appear one-note and bleak.
7. Value Texture
Combine rich and varied materials with raw and unrefined materials to ensure that an industrial space emits warmth and comfort. Use plush and colourful rugs, pillows, window treatments, and fabrics to contrast with the raw materials of industrial space, instantly transforming the interior from cold to warm. Because industrial items are typically worn, dull, and large in scale, it is critical to incorporate items that appear polished to contrast with the industrial finishes.
Fabrics: Experiment with rich and warm colours like reds, browns, pinks, and purples when it comes to furnishings. Don't be afraid to combine patterns and colours. Alternatively, use neutral furnishings and layer patterned and colourful accents on top. To respect the industrial edge of lofts, we frequently use neutral textiles with nubby or pile finishes on upholstery and add pattern and heavier-duty texture with pillows, throws, and window treatments.
Window Treatments: Large windows are common in lofts and other industrial spaces. Floor-to-ceiling drapery is a simple way to add warmth to a room. To maximize homeowners' options, two layers are sometimes required to achieve the look—a sheer layer and a heavier layer.
Rugs: Area rugs are key, particularly in an industrial space where the floors may be made of concrete or distressed wood. Add colour, texture, and pattern to any interior with a plush rug. A large neutral sisal or wool rug can be used to establish a living area, and smaller, bolder area rugs can be layered on top of it to call out specific activity areas.
Throw pillows and blankets: These are easy ways to make a sofa, bed, or armchair feel cosier.
8. Think about organic and natural materials
Incorporate organic forms and materials to contrast the raw materials of industrial space, whether with a natural fibre rug or a waxed wood table. Organic materials and forms tend to provide the enveloping quietness that we seek in our living spaces.
So, are you going for orange interiors for your home? If you think this article has helped you decide, please let us know your thoughts below!
Reference: http://www.dezineinnovation.com/residential-interior-designer.html
If this article is help you for make your industrial style then you can read more about Dezine Innovation. Creative and Innovative ideas for Interior design, Office interior, Hospitality Interior and more